St. John's Church and Old Town, Tiit Grihin
1. A colourful combination of cultural heritage and modernness
Tartu, as the oldest city in the Baltics, offers exciting sights every step of the way, especially in the city centre, which is a unique national heritage conservation area. Here you can find examples of styles from medieval times to present-day modern architecture that are complemented with cozy cafes and unique restaurants, urban nature and the lively buzz of the student city. Tartu is the cradle of Estonian culture – from here the national university originated and the first newspapers and cultural societies started their work. In the year 1869, the first Estonian national song festival took place in Tartu and the first professional theatre (Vanemuine) began its work here in 1870. The National Archives and the Ministry of Education and Research are also located here, as well as various important cultural institutions. The most important among them is the over a century-old Estonian National Museum where history is intertwined with innovation – the museum's permanent exhibitions of the cultural history of Estonian and Finno-Ugric nations are represented through both physical exhibits as well as novel smart solutions, creating a bond between the older and younger generations.
Estonian National Museum and Tartu 2024 landmark, Kiur Kaasik
2. Joy of discovery for the whole family
Tartu is a perfect place for spending a family holiday – a safe and compact city environment offers versatile activities for family members of all ages, and presents an opportunity to learn and grow together. In the city and across the county, there are numerous playgrounds and parks, exciting museums with interactive exhibitions, fantasy-filled playrooms and fun water attractions. Here you can find huge mammoths, small quails, toys and craft workshops, trampolines, climbing trees and many more exciting things and places. And most importantly – as Tartu is compact, everything is equally close and a lot can be done in a short time!
Family at the Car-Free Avenue, Silver Gutmann
3. Numerous possibilities for an active holiday
There are plenty of exciting sports activities and adrenaline-filled challenges for both grown-ups and children. Cycling and skating fans are delighted by bicycle routes, of which some even reach Northern Latvia. Adventure enthusiasts can put themselves to a test in Tartu and Elva adventure parks, Rahinge Wakepark and Lange Motokeskus. An unusual and dizzying experience awaits in the Upside Down House where life has been turned upside down, and for an even greater illusion of the senses, the house is tilted as well. You can also find thrilling escape rooms, paintball games, go on hot-air balloon rides, and of course various sports events take place all year round – for example, the traditional Tartu Maraton Club's ski, cycling, running, and inline skating marathons.
Lange Motocenter karting track, Tõnis Krikk
4. A city full of flavours!
Tartu is the centre of South Estonian flavours. Here you will come upon plenty of cozy cafes and diverse restaurants, on whose menus authentic Estonian food as well as dishes from different nations can be found. This area is known for various events that value good and healthy food. Thus, in February, Tasty Tartu restaurant month attracts food gourmets with exciting special menus in the city's restaurants, the summertime Tartu Food and Wine Festival brings together countless delicacies and seasonal bounties of nature from the best of what the small producers in South Estonia have to offer, and home-café days are growing in popularity both in the city and all over the county.
Streetfood festival in Aparaaditehas Creative City, Kiur Kaasik
Tartu Market Hall, which resembles an antique temple, is situated on the bank of the Emajõgi River. This temple of food, which just recently received a make-over for its 80th anniversary, is undeniably one of the city's symbols from the standpoint of history, architecture as well as trade, and in addition to meat products, vegetables and fruit, natural juices and craft beer, for instance, are also found there – pure flavours and local raw ingredients directly from the producers! A varied selection of produce from regional farmers is also found at the outdoor market located in the immediate vicinity of the market hall, and at the Farmers' Market of the biggest shopping centre in South Estonia, Lõunakeskus.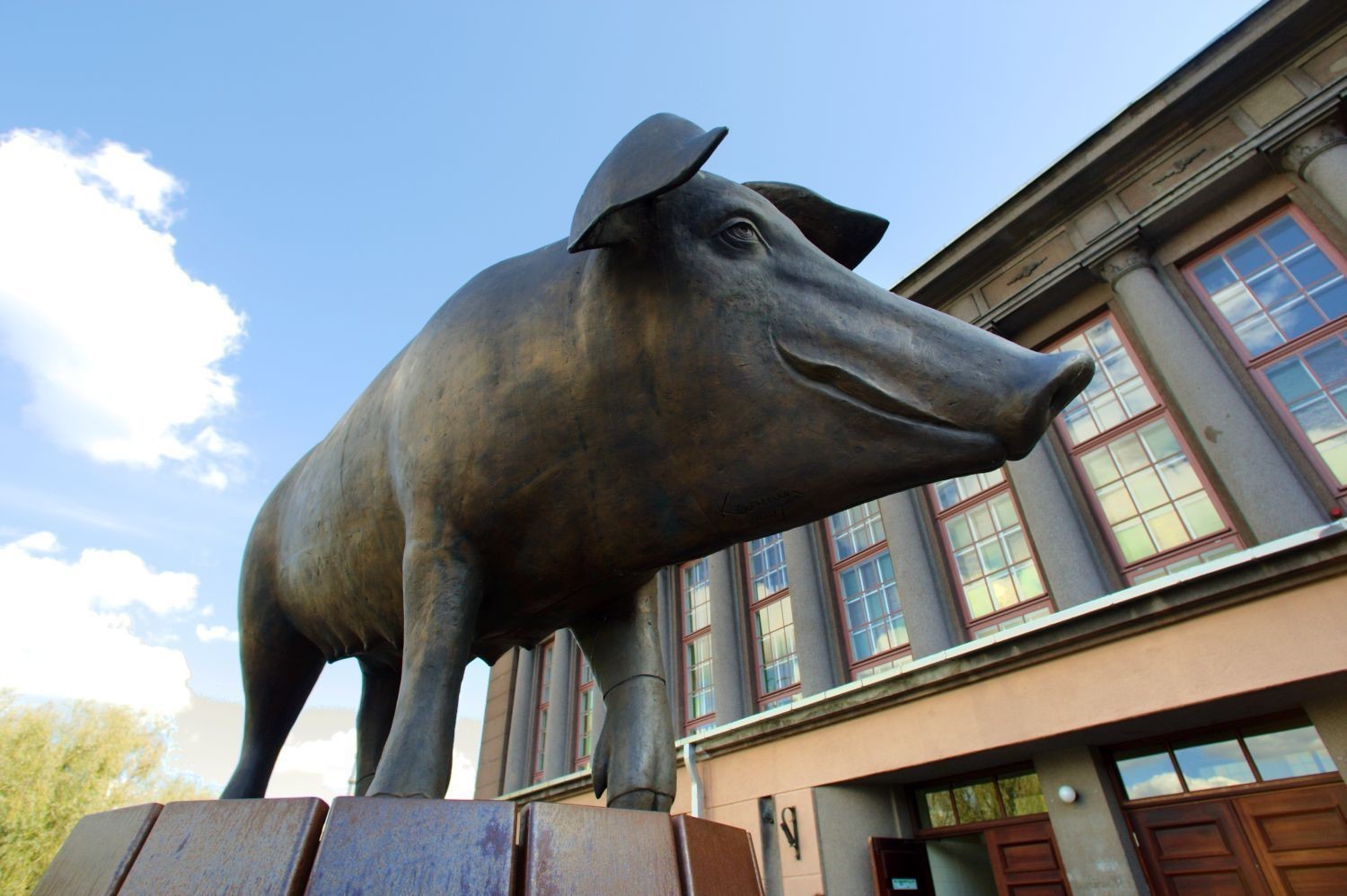 Sculpture Bronze Pig in front of Tartu Market Hall, Meelis Lokk
5. A vibrant cultural calendar
In Tartu, different events for everyone's taste take place all year round – there's plenty of joy to go around for all history, music, literature, theatre, film, science as well as sports enthusiasts. The city's history and cultural heritage and traditions are carried on by the Hanseatic Days, Tartu City Day and the Christmas City.
The Christmas City, Tanel Kindsigo
Tartu's other, sometimes maybe rather unusual, facets are introduced during the Urban Festival UIT, the Estonian Theatre Festival "DRAAMA", the lively student days in the spring and the autumn, Tartu Love Film Festival "tARTuFF", the Street Art Festival "Stencibility", the Festival in "Aparaaditehas" (the Widget Factory) and many more. The best overview of Tartu's countless possibilities can be browsed through Tartu's Window of Culture (Kultuuriaken) at www.kultuuriaken.tartu.ee.
Aparaaditehas Creative City festival
6. Unique wooden neighbourhoods: Karlova and Supilinn ("Soup Town")
In the bohemian-like expressive Karlova and Supilinn, the exciting history, eye-catching architecture and colourful street art of the neighbourhoods meet – it truly is a "little wooden city", known for its old wooden houses and a bit of an eccentric atmosphere. In spring, both locals and visitors of the city have the opportunity to take part in the neighbourhood festivals that add an extra dimension to areas with an already unique architecture and vibe in the form of exciting events.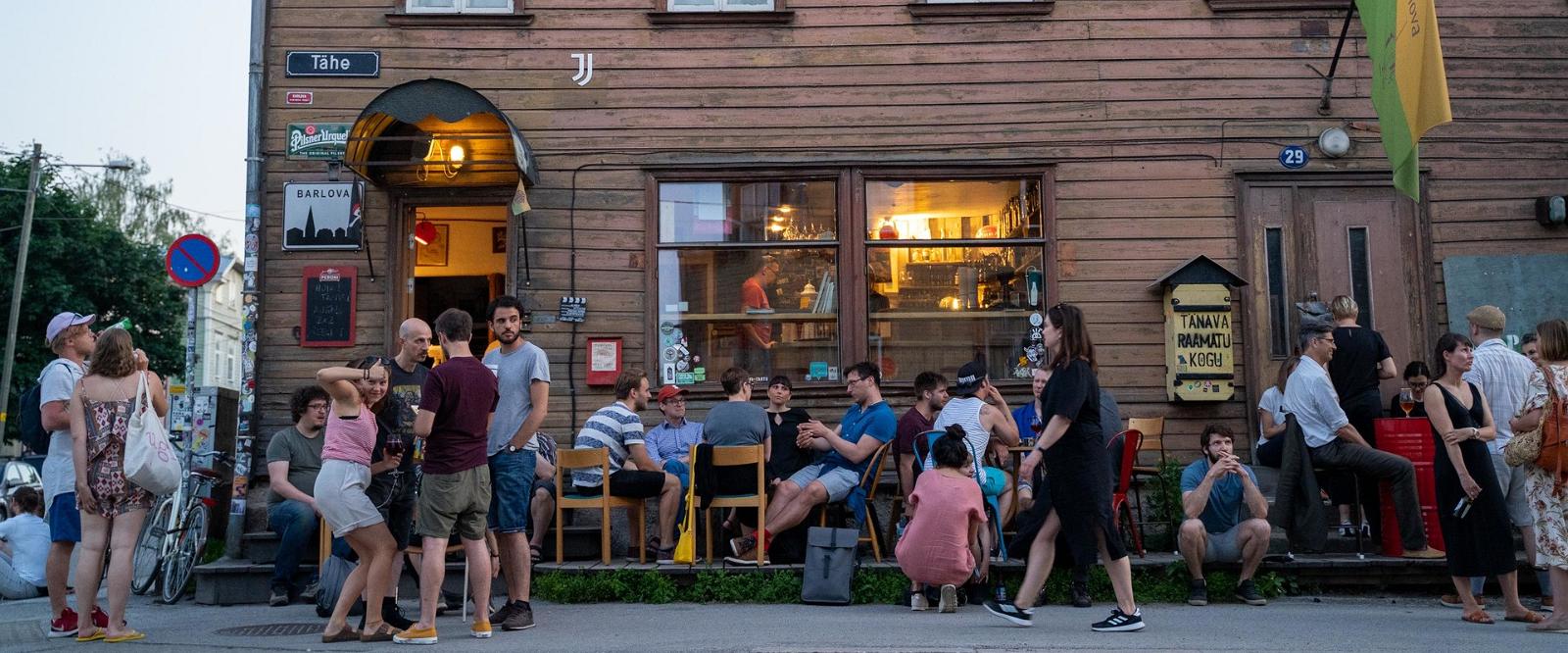 Bar Barlova in Karlova, Aleksandr Heifets
The unique milieu and pleasant atmosphere of the wooden neighbourhoods are wonderfully conveyed through the adventurous family movie "Secret Society of Souptown" ("Supilinna Salaselts"), which is based on a literary work written by Mika Keränen, Tartu City Writer of the year 2018. Visiting the places seen in the movie will definitely bring excitement to all movie fans, both young and old.
Souptown, Ragnar Vutt
7. Colourful street art
There aren't very many cities in Europe where graffiti is created in cooperation with city authorities. With its colourful and versatile street art, Tartu is just one of these cities. While strolling down main streets and smaller side streets, you will quite often encounter interesting masterpieces or slogans with graffiti motifs and drawings.
Souptown street art, Evelin Pihlak
Separate city tours have been created for introducing street art, but it is also possible to take a look at it through the series "Estonian Stories: Canvas City" ("Eesti lood: Lõuendilinn") or through the street art map. In addition, Tartu has its very own street art festival with international dimensions, "Stencibility", which brings together specialists in their respective fields and offers discoveries and participation for tourists. In the course of the festival, magnificent and unique pieces are created as joint work between local and foreign artists, pop-up exhibitions take place, excursions introducing street art, photography contests, workshops presenting different art techniques, and much more.
Souptown street art, Ruth Pärnaku
8. You can truly unwind in Tartu
Tartu is an excellent place to take a break and enjoy the moment, and that right in the city centre where enticing first-rate spas and treatments await. Both the V Spa water and sauna worlds as well as the Aura water park and health club attract visitors with various saunas, Jacuzzis and pools where there is also no shortage of fun water attractions for entertaining even the youngest members of the family. Wonderful city views, fresh air and the swaying waves of the Emajõgi River also invigorate the senses – all of this can be enjoyed strolling by the river, indulging in cozy riverside cafes, and on boat trips on the barge "Jõmmu" or Viking ship "Turm".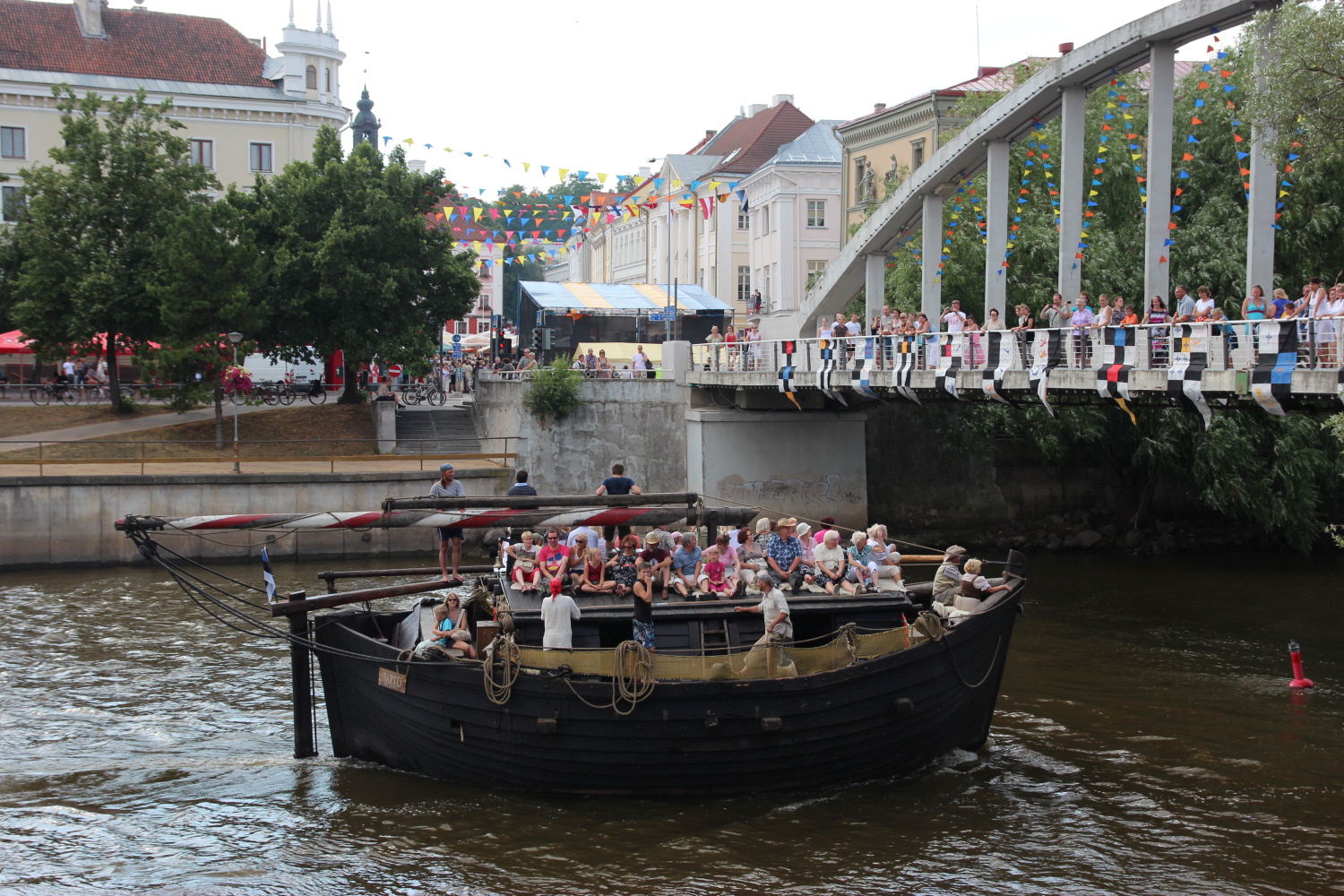 Boat trip on the barge "Jõmmu", Emajõe Lodjaselts
9. Beautiful countryside and urban nature
The Great Emajõgi snaking through the city, the natural Toome Hill foreland, the botanical garden situated in the city centre as well as numerous parks all enrich the urban nature, and offer possibilities to enjoy the greenery without leaving the city. In the Alam-Pedja, Peipsiveere and Järvselja nature reserve areas situated in the county, there are several exciting observation and hiking trails where you can wander around enjoying nature untouched by human hands. Also worth discovering are Kallaste sandstone outcrop near Lake Peipus, Tamme outcrop near Lake Võrtsjärv and the network of hiking trails in the pinetown Elva, of which the most well-known is the Nature Energy Trail ("Väike Väerada") that is lined with folklore themed wooden sculptures. The abundance of waterbodies throughout the county offers a variety of opportunities for trips and pleasure rides. In the animal park located in the former Elistvere manor park, it is possible to gaze at local wild animals, and get acquainted with local wildlife and the rich avifauna of Lake Elistvere by walking around the park's nature trails. Making it easy to discover exciting natural and cultural places are the unique yellow frames inspired by National Geographic, of which there are seven in Tartu and its vicinity, and 24 altogether in South Estonia.
The river Emajõgi and public swimming place, Ragnar Vutt
10. A favourable research and business environment
Tartu is known as the educational and research centre of Estonia. A well-functioning education system, 9 institutions of higher education, a compact business environment and different support structures create a favourable ground for the rapid and smart development of entrepreneurship. In addition to medical and biotechnology, the fields of information technology and electronics are also very well developed in Tartu, bringing together a number of successful companies and many start-ups, which the city's business landscape continuously supports. In addition to hundreds of annually held local and international conferences, seminars and workshops in different fields, the largest business festival of the Baltics, sTARTUp Day, is also organised in Tartu, bringing together from all over the world both specialists in their respective fields as well as entrepreneurial enthusiasts who have only just begun making plans to start their own business. Business and, of course if needed, leisure tourists as well have the opportunity to get urgent work done by using the public workspace with all conveniences, sTARTUp Lounge, located in the city centre, or business lounges offered by various hotels.
Painting of the University of Tartu which is on the background.